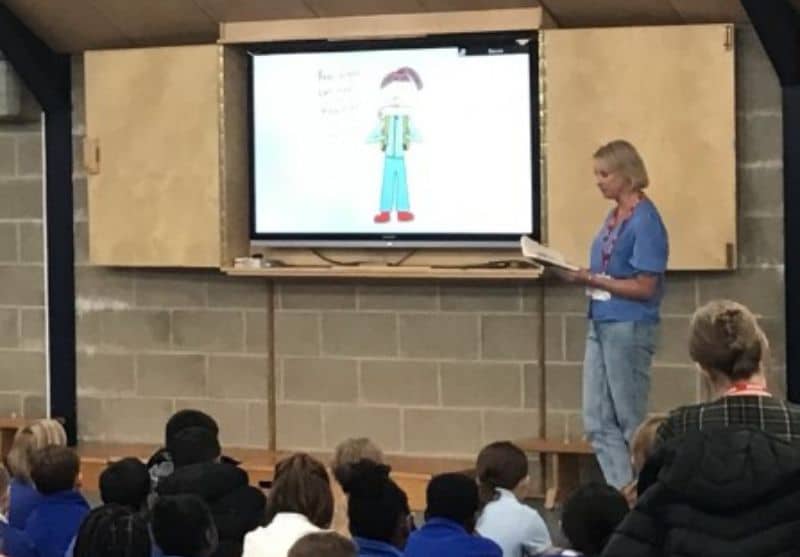 On Wednesday 20 September, pupils in Years 5 and 6 were fortunate enough to meet the fabulous author, Katie Kirby. We were also very pleased to be able to welcome Year 5 and 6 pupils from St Margaret's at Troy Town Primary School who joined us for this exciting event. 
During her time with the pupils, Katie showed a selection of her drawings, spoke about her career as a writer and read the children an excerpt from her latest book, Lottie Brooks's Totally Disastrous School Trip. 
After a short demonstration, the children then had an opportunity to practise drawing in the same style as Katie and some brave volunteers even went up to the front and drew themselves in Katie's style on the flipchart. It was lovely to see so many budding artists in the room! Katie then gave pupils the opportunity to ask questions, which she answered in lots of detail, so that the children could learn more about her writing and what inspired her to create the Lottie Brooks book. 
Before the end of the session, the author signed and dedicated copies of her books that were pre-owned by pupils or had been pre-ordered or bought on the day. It was great to see so many smiling faces as children left clutching their new books! 
Katie's new book The Completely Chaotic Christmas of Lottie Brooks will be on sale at the Prep. School Book Fair on the 30 November and 1 December.
Related Posts
It has been a busy week for General Knowledge at King's School Rochester this week with the winner of the Nickless Prize revealed and three victories in the first round of Schools Challenge General Knowledge Competition, based on television's "University Challenge". Two Senior (Sixth Form and Upper Fifth) teams won handsomely with 340:130 and [...]

Several pupils woke up bright and early on Saturday 25 November to participate in a very chilly 96th House Cross Country Championship which saw over 90 competitors run the 4.5 miles from Nashenden Farm Lane. Alfred O beat his own time to set a new course record of 27:03. Congratulations to all who took [...]

Church of the Flying Spaghetti Monster This week members of the Zetountes Society discussed the recent ruling of the European Court of Human Rights on the Church of the Flying Spaghetti Monster. The Court argued that "Pastafarianism", due to its purely satirical character, cannot be considered to be a religion or belief within the [...]