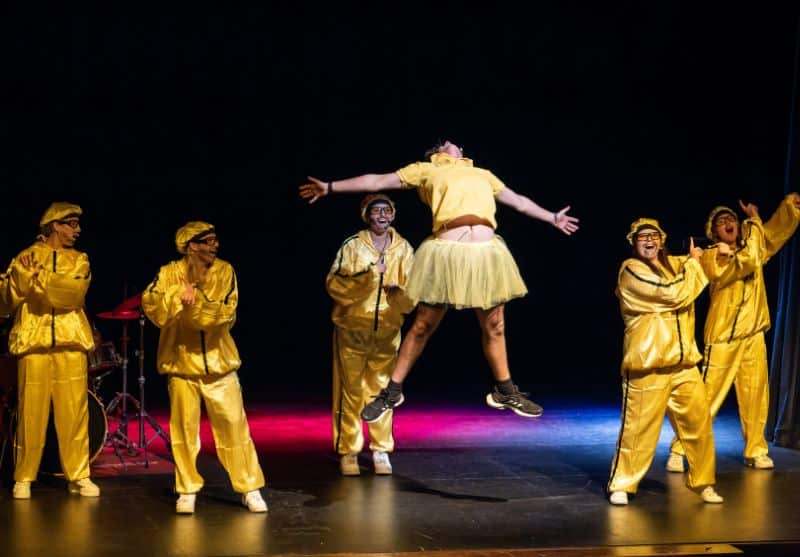 Wednesday 18 October turned out to be the rainiest day so far in the Michaelmas term, so pulling house music together felt a bit more uphill than normal. However, the pressure of the day seemed to be alleviated somewhat by the appointment of Sam Boden as judge. Sam spends his time as a professional tenor, recording, touring and broadcasting with some of Europe's finest ensembles, so it was a real honour to have him judging for us.
The evening began with Hugh Davies for Parker House on the piano with Rachmaninoff's Prelude in C# minor, which he delivered with explosive force and passion. Next came Crick's offering by Claire Franks, with the delicate 'Once Upon a December' from Anastasia, which demonstrated her remarkable vocal range and excellent stagecraft. Next came Yasmin Holland for Storrs, with 'I Dreamed a Dream' from Les Miserables: A powerful and convincing performance.  Finally, Bobby Langfield for Whiston on the trumpet. This was Bernstein's 'Red, White and Blues', an ecstatically jazzy trumpet solo underpinned by a jazz stomp rhythm, which ended up winning the solo category.
Next came the ensembles, which showed amazing variety. Storrs began with a simple five-piece rock band and 'Johnny B. Goode' by Chuck Berry. This had real integrity and entertainment value with Chester Crozer's air guitar supported by Nik Hebden's brilliant soloing. After this, Whiston took to the stage with a melange of 'Ice Ice Baby', 'Careless Whisper' and 'Locked out of heaven'. This was a feat of production with some incredible staging and a stunning saxophone lead from Alex Scott and a great arrangement by Nathan Dickin. This was followed by Parker with Abba's 'Mamma Mia', arranged by Nic Weir, including some very inventive staging. Lastly, we had Crick with 'Come Alive' from the Greatest Showman, arranged by Charlie Binney. This was an inventive and diverse take on the piece, with an orchestration of drums, piano, violin and marimba. Charlie won the 'best arrangement' award for this and the overall ensemble winner was Storrs with Johnny B. Goode.
Finally, we moved onto the house songs, with Whiston's 'I Want it That Way' by the Backstreet Boys starting the section. This was a good choice, but the boy band singing range tended to be a bit low for everyone. Next came another boy band hit with 'I'm a Believer' by the Monkees, with plenty of Shrek-inspired references in the staging. Next, Crick took to the stage with Miley Cyrus's 'Party in the USA'. This was a challenging song with lots of lyrics to learn, but performed really brilliantly with some strong choreography. Finally, Parker performed 'Marry you' by Bruno Mars, which had plenty of comedy value in the production, not least Jamie Ford and Alfie Reeve's disappearance into the sunset at the end. The silly songs took over whilst Sam Boden triple-checked his addition. The results were revealed: the House Song was won by Crick who were also overall winners, with Whiston in a close second, one point below and Parker in third with Storrs finishing fourth.
An amazing evening of energy and music, most of all the brilliant support given by the houses to each other, and the standing ovations from other houses to various ensemble and solo performances. For me, the best moments are seeing the reaction of the audience to the other house songs and ensembles which they're seeing for the first time. Let's see if Parker, Whiston or Storrs can topple Crick's four year winning streak next year!
Related Posts
It has been a busy week for General Knowledge at King's School Rochester this week with the winner of the Nickless Prize revealed and three victories in the first round of Schools Challenge General Knowledge Competition, based on television's "University Challenge". Two Senior (Sixth Form and Upper Fifth) teams won handsomely with 340:130 and [...]

Several pupils woke up bright and early on Saturday 25 November to participate in a very chilly 96th House Cross Country Championship which saw over 90 competitors run the 4.5 miles from Nashenden Farm Lane. Alfred O beat his own time to set a new course record of 27:03. Congratulations to all who took [...]

Church of the Flying Spaghetti Monster This week members of the Zetountes Society discussed the recent ruling of the European Court of Human Rights on the Church of the Flying Spaghetti Monster. The Court argued that "Pastafarianism", due to its purely satirical character, cannot be considered to be a religion or belief within the [...]