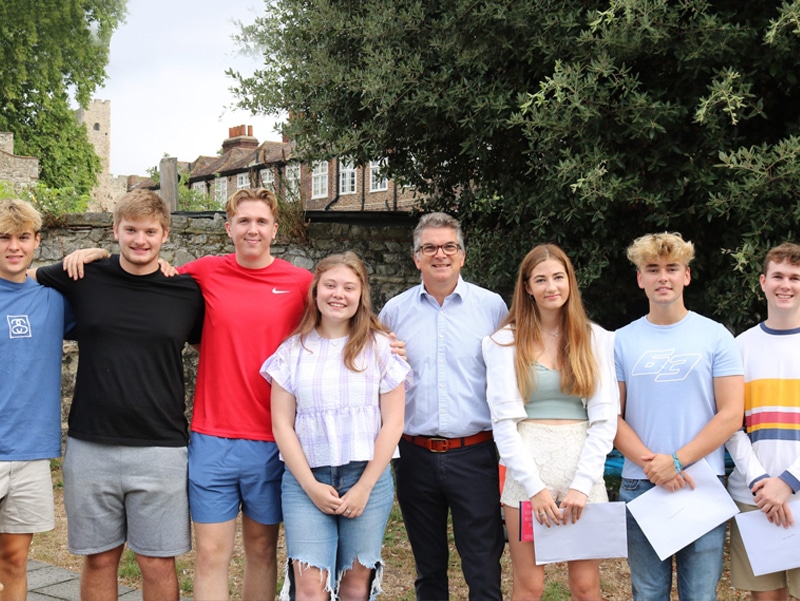 A Level results open a wide variety of doors for the Class of 2022 at King's School Rochester.
Huge congratulations to the Class of 2022 today as A-Level results have exceeded the hopes and aspirations for many of our pupils.
Given the huge uncertainty around this year's results, pupils have a great deal to feel proud about with 80% of grades being A* to C and the vast majority securing a university of their choice. 
The breadth of courses and apprenticeships pupils are going on to study is impressive and includes Biosciences and Geography at Durham, Philosophy at Leeds, Popular Music Performance and Songwriting at BIMM, Computer Science at York and the trombone and voice at The Royal College of Music.  Degree apprenticeships also include Construction Engineering Management at Laing O'Rourke and Finance at Kingswood.
Ben Charles, Principal of King's and Headmaster of the Senior School, said "I am incredibly proud of each and every one of our class of 2022 and thrilled at their progression and success whilst at King's.  They have dealt with the pressure of sitting their first set of public exams admirably to achieve what they needed to.  I am also confident that our pupils not only leave with a fantastic set of grades but also a skills set of practical competences in preparation for a life beyond School.  The breadth of courses our pupils are going on to study reinforces the diversity of talent we nurture at King's and our commitment to support the different aspirations each of our pupils have.  
"Thanks must also go to our hardworking and inspiring team of teachers here, who always go above and beyond the call of duty to get the best out of every one of our pupils and encourage an inner confidence and determination that will see them through the rest of their education and future career.  As always, we will continue to support our leavers  as part of the Old Roffensians network to make sure they achieve all they set out to ."
Related Posts
The Prep. School and drama department have been working tirelessly to perfect their performance of "The Lion, the Witch and the Wardrobe". Five local schools came to watch the dress rehearsal and with over 200 visiting pupils, School Hall was packed to the brim with attendees! We thoroughly enjoyed welcoming St Andrew's School, English [...]

Today we hosted our annual Festival of Rugby, which is an outreach event for local schools. The weather was thankfully in our favour as four schools joined us (Balfour Junior School, Hilltop Primary Academy, Cliffe Woods Primary School and Brompton Westbrook Primary School) for a day full of rugby. King's School Rochester Sports staff [...]

The sombre echoes of remembrance filled the halls of Prep. School on Tuesday as we commemorated the sacrifices of past pupils in a moving ceremony. Led by chorister Matthew's soulful rendition, the service commenced with a poignant tone that reverberated through the hearts of attendees. Every chorister participated earnestly, lending their voices to honour [...]