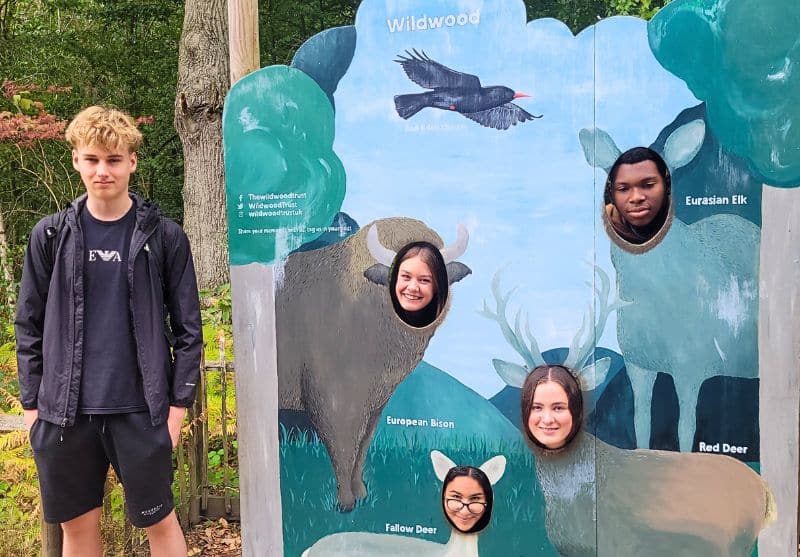 On Monday, Year 12 spent the day undertaking field studies at Wildwood near Canterbury. The first part of the day was learning the statistics needed to workout biodiversity of different habitats, before moving swiftly into the woodland to find some woodlice. The challenge had been set prior to arrival of a 'boys versus girls' kind of day, and who could find the most woodlice, and indeed, who could find the very tiny and elusive, Pseudoscorpion! The girls won the first round finding many woodlice which then had a lovely blue spot of nail varnish painted on them ready to identify later in the day.
After a long lunch and an excellent tour of the wildlife park, narrated by Steve who has endless enthusiasm and facts for the beautiful animals at Wildwood, the pupils entered the canopied area near the rutting Elk. Pupils had to be exceptionally quiet as the Elk was not usually happy to have visitors so close when trying to court his lady. We managed a good 15 minutes before the Elk came out of the shed, and in that time all the pupils sampled some of the organisms on the woodland floor, but the boys outdid the girls on this occasion finding the Pseudoscorpion and earning themselves a badge!
A lovely field day was had by all.
Related Posts
It has been a busy week for General Knowledge at King's School Rochester this week with the winner of the Nickless Prize revealed and three victories in the first round of Schools Challenge General Knowledge Competition, based on television's "University Challenge". Two Senior (Sixth Form and Upper Fifth) teams won handsomely with 340:130 and [...]

Several pupils woke up bright and early on Saturday 25 November to participate in a very chilly 96th House Cross Country Championship which saw over 90 competitors run the 4.5 miles from Nashenden Farm Lane. Alfred O beat his own time to set a new course record of 27:03. Congratulations to all who took [...]

Church of the Flying Spaghetti Monster This week members of the Zetountes Society discussed the recent ruling of the European Court of Human Rights on the Church of the Flying Spaghetti Monster. The Court argued that "Pastafarianism", due to its purely satirical character, cannot be considered to be a religion or belief within the [...]