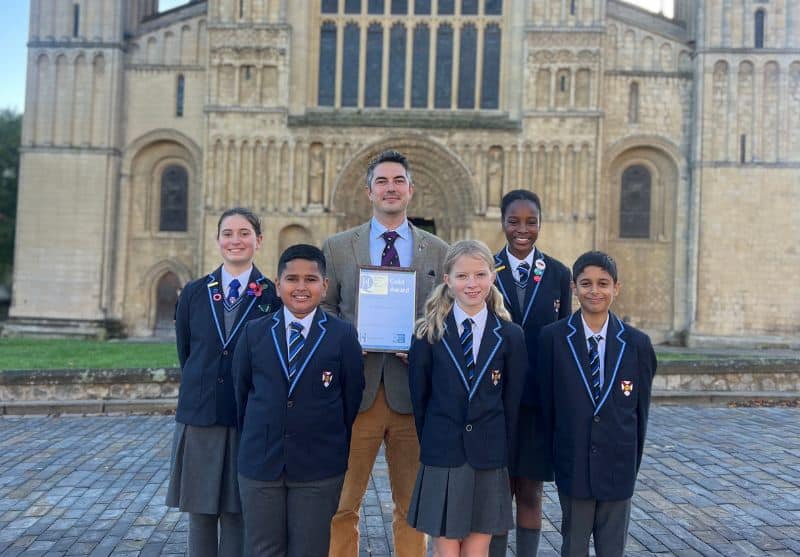 King's School Rochester – History Association's History Quality Mark for Schools
The Historical Association Quality Mark is an award that recognises the excellence of history provision in a school. The Quality Mark assess and values the history provision of the teacher, their department and the school and what is being offered to young people. The Quality Mark provides a framework for success in which to develop an outstanding provision of history for a school. There is a regulated programme for a school working to achieve the Quality mark to follow, with a clear assessment procedure delivered by independent Historical Association appointed assessors. The assessment is broken down into four sections including: Learning, Teaching and Achievement, Leadership, Curriculum, and Enrichment.
At King's School Rochester, history education thrives as a beacon of excellence, fostering a deep appreciation for the past and igniting a passion for learning. The School's commitment to teaching, leadership, curriculum, and enrichment opportunities has earned them a coveted 'Gold Award' Quality Mark, showcasing their dedication to creating a rich and engaging history programme. Our assessor said that we are the first Preparatory School to undertake the Quality Mark and achieve the Gold Award.
Learning, Teaching, and Achievement
The foundation of any successful history program lies in effective learning, teaching, and achievement. At King's School Rochester, history education is designed to empower pupils to speak confidently and articulately about their history learning, its purpose, and how to improve. The assessor noted that there was strong focus on historical language, especially noticeable in older pupils, allowing them to understand the tools historians use to piece together the past, creating a bigger picture.
Motivation among pupils is high, fuelled by lively and practical lessons that bring history to life. Activities such as re-enacting the Battle of Hastings, crafting Tudor houses, and exploring historical artefacts make history an exciting journey. The use of humour, drama, and role-play engages pupils in a way that fosters a love for the subject.
The quality of teaching is exceptional, with a clear focus on historical learning and understanding. Lessons incorporate various activities, including retrieval practice, use of written and visual sources, and opportunities for peer discussion and collaborative learning. The introduction of the 'see, think, and wonder' strategy, along with the 'Learning Passports,' aims to promote independent thinking and reflection.
Leadership
At King's School Rochester, exceptional leadership plays a pivotal role in the School's history education program. The history department is not only committed to maintaining high standards but is also dedicated to continuous improvement and was recognised as the strongest field in the assessment.
The Head of Department (HoD) brings a wealth of experience from several years of teaching history at the School alongside running the Classics department. His visionary leadership aims to drive the department towards new heights of achievement. He is currently pursuing his NPQSL to further develop his leadership skills, a testament to his commitment to personal and professional growth.
One notable strength within the department is the strong collaboration among the teachers and their wealth of experience. They work closely as a team, participating in regular department-wide insets and professional development sessions. This collaborative approach ensures consistent application of strategies and the effective implementation of new systems.
The HoD's vision for the department aligns well with the School's broader goals. He is actively working with the Director of Teaching and Learning to advance ongoing initiatives. Their shared vision includes a more in-depth focus on assessments, the introduction of 'Big Ideas' within the curriculum, and a drive towards fostering greater independence and deeper thinking among pupils.
Curriculum
King's School Rochester's curriculum follows the National Curriculum, with a predominant focus on British history. This chronological approach allows pupils to gain a comprehensive understanding of the past. The curriculum incorporates seven 'Big Ideas in History,' which are incorporated from the Pre-Preparatory School to Senior. These are: chronological understanding; culture, ethnic, gender and religious diversity; change and continuity; cause and consequence; significance; sources and evidence and local history, fostering a holistic view of historical knowledge.
While the curriculum is well-structured, there is an opportunity to strengthen local history integration, which would connect pupils more deeply to their community and foster a sense of identity. The curriculum engages well with diversity and we explore topics concerning the experiences of different groups in hidden histories. However, there is potential for a more integrated approach, allowing inclusion and diversity to permeate the curriculum, making it more reflective of the School community and the world at large.
Enrichment
While history at King's School Rochester is already enriched by links to other subjects, there is always room for further integration and joint planning to demonstrate the interconnectedness of learning. The School encourages parents and carers to participate in learning through various avenues, such as homework, competitions, and regular communication on children's progress. However, there is an opportunity to deepen community involvement by collaborating with local history groups and organisations, further enriching local history learning and fostering community cohesion.
Conclusion
History education at King's School Rochester stands as a model of excellence, with 'Gold' Quality Mark recognition in multiple areas. The commitment to learning, leadership, curriculum, and enrichment ensures that pupils receive a rich and engaging education that empowers them to connect with the past and become critical thinkers teaching them skills for life.
The quality mark was very encouraging in terms of our teaching and learning, the report stated that "Teaching observed was strong, with a clear focus on historical learning and understanding". We pride ourselves on being a very well experienced department with lots of well qualified and passionate historians. The quality mark did lead us to reflect on outcomes and thinking about how we can more closely explore how we track progress beyond the teaching the required skills for assessment, which we map to GCSE.
The biggest success for us during the experience was actually asking ourselves what does it mean to teach history, how do we do it, and what skills do we want the pupils to leave with. It is easy to think about teaching content and curriculum, but it is harder to think about what skills we equip the pupils with for life. As a school so deeply ingrained in history since 604AD, we are in a privileged position to teach history with Rochester
Castle and Cathedral on our doorstep. We will continue to develop and evolve our history program, embracing the opportunities for more extensive community involvement, integration across subjects, and enhanced curriculum will further enrich the educational experience and reinforce history's place as a cornerstone of learning at King's School Rochester.
Mr Callum Carroll
Head of Classics and Preparatory History
Related Posts
The Prep. School and drama department have been working tirelessly to perfect their performance of "The Lion, the Witch and the Wardrobe". Five local schools came to watch the dress rehearsal and with over 200 visiting pupils, School Hall was packed to the brim with attendees! We thoroughly enjoyed welcoming St Andrew's School, English [...]

Today we hosted our annual Festival of Rugby, which is an outreach event for local schools. The weather was thankfully in our favour as four schools joined us (Balfour Junior School, Hilltop Primary Academy, Cliffe Woods Primary School and Brompton Westbrook Primary School) for a day full of rugby. King's School Rochester Sports staff [...]

The sombre echoes of remembrance filled the halls of Prep. School on Tuesday as we commemorated the sacrifices of past pupils in a moving ceremony. Led by chorister Matthew's soulful rendition, the service commenced with a poignant tone that reverberated through the hearts of attendees. Every chorister participated earnestly, lending their voices to honour [...]