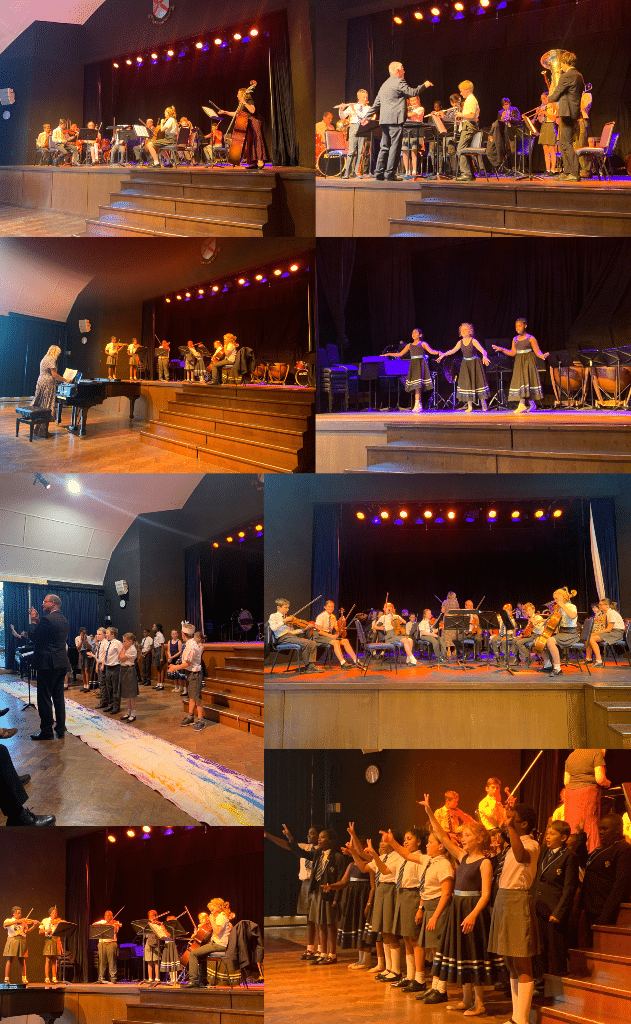 Friends and family of the Prep School were treated to an evening of singing, playing and dancing on Tuesday, featuring an array of pupils of all ages, from Year 4's outstanding reprise performance of Captain Noah all the way through to the Senior String Orchestra playing extracts from Peter Warlock's Capriol Suite, unconducted!
Highlights included the Wind Band playing a joyous rendition of Pharrell William's "Happy", the poised and elegant Ballet dancers' interpretation of Adolphe Adam's Valse from "Giselle", Brass Monkey's patriotic (and upstanding) performance of the National Anthem and Superstrings' lusty playing of Skip to my Lou.
Special mention must go to the performance of an extract from Act I of Bizet's Carmen featuring not only the Year 5 Create & Sing Opera stars but the Prep School Orchestra, featuring, in his debut performance in the percussion department, Mr Bailey – the first of many, we hope! It was a joyful event and a wonderful celebration of pupils' hard work throughout the year. Congratulations to everyone involved!
Related Posts
It has been a busy week for General Knowledge at King's School Rochester this week with the winner of the Nickless Prize revealed and three victories in the first round of Schools Challenge General Knowledge Competition, based on television's "University Challenge". Two Senior (Sixth Form and Upper Fifth) teams won handsomely with 340:130 and [...]

Several pupils woke up bright and early on Saturday 25 November to participate in a very chilly 96th House Cross Country Championship which saw over 90 competitors run the 4.5 miles from Nashenden Farm Lane. Alfred O beat his own time to set a new course record of 27:03. Congratulations to all who took [...]

Church of the Flying Spaghetti Monster This week members of the Zetountes Society discussed the recent ruling of the European Court of Human Rights on the Church of the Flying Spaghetti Monster. The Court argued that "Pastafarianism", due to its purely satirical character, cannot be considered to be a religion or belief within the [...]