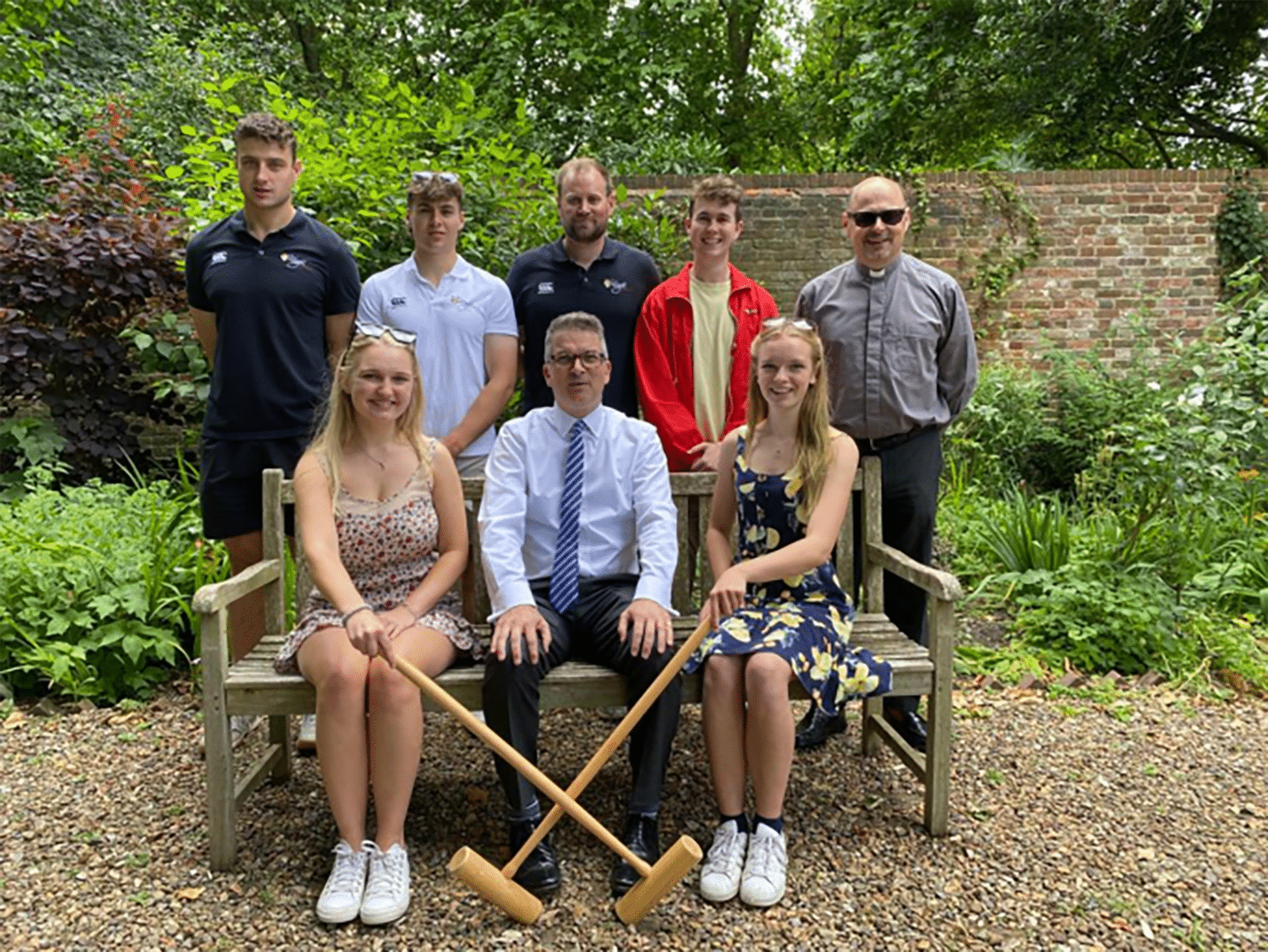 A ball. A mallet. A hoop. A lawn. A lunch. Fair weather. All that was needed to play this year's Headmaster's croquet matches against the Heads of School and the Upper Sixth King's Scholars. Grass mowed to perfection, on a fast-moving course, provided the perfect setting for a heated contest between the Headmaster's IV and the pupils.
Over two days of working lunches, the pupils battled against the Headmaster's team, fighting valiantly with some talented ball play – only to sadly lack the skills to upset the teachers' game sufficiently to bring in a win. Using the Kent scoring system developed by Henry VIIIth on his visit to King's orchard to meet Anne of Cleves, the Headmaster's team triumphed 26 points to 14.
The Headmaster's unbroken record continues, and next year's Lower Sixth will need to get in some good practice in order to bring a credible challenge in 2023. Fun was had by all, and the lunches and weather were amazing!
Father Padfield
Related Posts
The Prep. School and drama department have been working tirelessly to perfect their performance of "The Lion, the Witch and the Wardrobe". Five local schools came to watch the dress rehearsal and with over 200 visiting pupils, School Hall was packed to the brim with attendees! We thoroughly enjoyed welcoming St Andrew's School, English [...]

Today we hosted our annual Festival of Rugby, which is an outreach event for local schools. The weather was thankfully in our favour as four schools joined us (Balfour Junior School, Hilltop Primary Academy, Cliffe Woods Primary School and Brompton Westbrook Primary School) for a day full of rugby. King's School Rochester Sports staff [...]

The sombre echoes of remembrance filled the halls of Prep. School on Tuesday as we commemorated the sacrifices of past pupils in a moving ceremony. Led by chorister Matthew's soulful rendition, the service commenced with a poignant tone that reverberated through the hearts of attendees. Every chorister participated earnestly, lending their voices to honour [...]