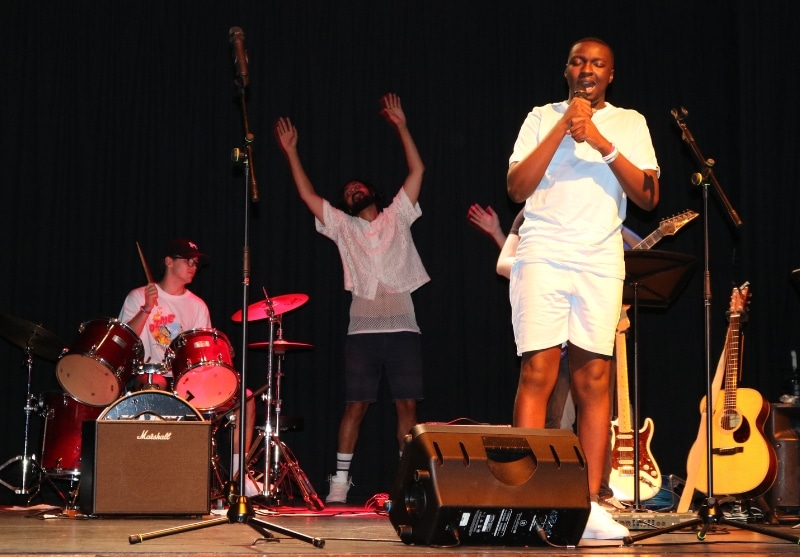 The conclusion of our remarkable Commemoration Day was marked by a memorable Open Mic night, uniting past and present pupils in a spectacular showcase of talent. Together, they raised over £600 in support of the Papyrus, Prevention of Young Suicide charity, underscoring the power of our school community to make a positive impact.
This special evening was dedicated to the memory of OR Ashwin Arularam, who played a pioneering role in our first live OR Open Mic event.
We were fortunate to have OR Sam Hall, currently serving as the musical director on the UK tour of 'The Bodyguard', return to lead the House Band. Sam's exceptional talent added a touch of magic to the evening, making it an immense success.
The House Band, comprising multi-talented ORs from various year groups, showcased their versatility by playing over 20 different instruments, from Banjo to Northern pipes and the Irish flute. They were joined by current pupils L6 Bobbie and U6 Nik and Nicolas, who contributed their skills on the more traditional rock instruments bass, guitar and drums.
The event featured a host of ORs who returned to entertain us. Former Head Boys Alex Barnes and Leon Neubauer graced the stage, with Christian Blandford delivering breathtaking performances of his original compositions, and Leon offering highly entertaining renditions, including an AI-inspired composition. 
Recent ORs, including Rebecca Macdonald and the legendary Ife, along with Elizabeth and Claire from the L6, also took centre stage. The event had a familial touch, with OR Matt Hebden joining his son, current pupil Nik, and nephew Alexander on stage. OR Geoffrey Hillier delivered an impressive rendition of "Desperado",  Headmaster Mr Charles got everyone singing along and Alex Barnes got everyone on their feet for a finale of Queen.
The evening exemplified the spirit of our school community, coming together for a worthy cause and celebrating the exceptional talents within our ranks. For more information about the Papyrus charity, please visit papyrus-uk.org
Related Posts
It has been a busy week for General Knowledge at King's School Rochester this week with the winner of the Nickless Prize revealed and three victories in the first round of Schools Challenge General Knowledge Competition, based on television's "University Challenge". Two Senior (Sixth Form and Upper Fifth) teams won handsomely with 340:130 and [...]

Several pupils woke up bright and early on Saturday 25 November to participate in a very chilly 96th House Cross Country Championship which saw over 90 competitors run the 4.5 miles from Nashenden Farm Lane. Alfred O beat his own time to set a new course record of 27:03. Congratulations to all who took [...]

Church of the Flying Spaghetti Monster This week members of the Zetountes Society discussed the recent ruling of the European Court of Human Rights on the Church of the Flying Spaghetti Monster. The Court argued that "Pastafarianism", due to its purely satirical character, cannot be considered to be a religion or belief within the [...]